Disney Pins
Sharing experiences around the world. Disney pins are a source of delight. Visit my gallery, small but meaningful. Each of these pins means something to me.
What do your pins mean? Where do they take you?
If I could name a favorite, this might be it. My collector of collectors. Mischievous Mr. Toad...
Kermit and the Rainbow Connection
Have you been half asleep?
And have you heard voices?
I've heard them calling my name
Is this the sweet sound
That called the young sailors?
The voice might be one in the same
I've heard it too many times to ignore it
It's something that I'm supposed to be
Someday we'll find it
The rainbow connection
The lovers, the dreamers and me
This song is dear to my heart for many reasons. But the one that sticks. The one that makes this third verse so special is a time when I needed that rainbow connection, the sweet sound, the half asleep dreams...calling my name, too close to ignore.
That something that I'm supposed to be. The lovers. The dreamers. And me.
Shannon

 
Disney Trading Pin Kermit
Just got this lovely pin in the mail today. Sent to me from my daughter. She is an avid trader. This pin was won by another trader, but when she told them my story, and how special this song is to me, they decided that I should have it. What a wonderful gift! Compassion is still alive. My heart sings. The dreamers and me.
Mr. Toad
Search through the mess of my desk and you will see several Mr. Toad pins and a couple of Tinker Bell (those the hubby collects). And then there's the menagerie of my Mr. Toad collection, like the Disneyland Easter Egg. That one provided by my other daughter. And lets not leave out Mr. Toad Tsum Tsum.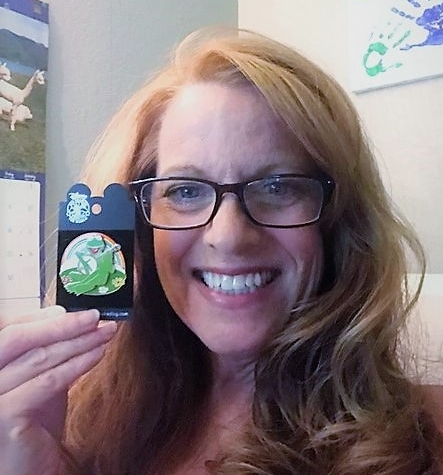 My kids are my rainbow. Thanks for the pins!
Giselle happiness. Love it when a trader takes the time to make it magical!
Check out the other pins. Love my Toads! These were all gifted to me by my children. Either purchased, or like this lovely Giselle pin, traded.
Miscellaneous Disney Business: Pins, Pics, Passion